Home | Mailing List | Specifications | Care and Feeding | Modifications | Vendors | Literature

Ray's Auto Repair - Cam Weld Experience
new 11/19/02, updated 12/28/02, 1/17/03, 1/31/03, 4/6/03, 5/30/03, 10/3/2003, 12/16/2003, 1/6/2004,4/15/2004,4/19/2004
---
Hello Tim,
As I e-mailed you, I had my cams welded today, and drove away unstressed and happy.
Rays Auto Repair did a great job. They had two other SHO's there having the welds done, and performed on all of them in a sort of assembly line fashion. Coordinated teamwork made the job seem much less that it was. The owner, Ray, as well as the mechanic and welder, is extremely accommodating and cordial. Also had other work done (plug replacement) along with the other SHO owners, and we all waited for our cars at the shop. The personnel answered our questions, were professional and the best of all, you could see that they liked what they were doing. These are real "car guys".
I would recommend, that for the price it is the best thing you can do for your car and your peace of mind.
---
Dear Patricia,
You are not the first to report a legal euphoria after getting your cams welded, come to think of it, Holly reported the same thing so it's not gender based euphoria. ;-)
I am so happy it worked out for you, and thank you for contributing to V8SHO FAQ,
Timothy
---
My name is Brian Whitaker, I own a 1997 SHO with 91,000 miles on it. I have only owned the car for about 3 weeks, and have already had to have the transmission rebuilt ($2,200.00!!!). I have read all about the cam failures, and decided to get them welded. I live in Beavercreek, Ohio, so I chose Ray's because itís only a 3.5 hour drive. My appointment was today (Dec. 21, 2002), the place is very easy to find. It took them about 4 hrs to complete the job. They did an excellent job and would highly recommend them. My check engine light has been on since I bought the car. Ray pulled up the check engine codes for free. These guys know what they are doing.
Brian Whitaker
1997Black SHO
---
An apology to Ray's - I had about twice this many glowing reviews of Ray's Auto Repair but started another page with the same name and "saved over" that file losing 3-4 good field reports. It was an unintentional loss of information, regrettably the information is not retrievable. - Tim
---
----- Original Message -----
From: grgixxer1
To: tim wright
Sent: Thursday, December 26, 2002 10:17 PM
Subject: Rays Automotive
Hi Tim.
I had my cams welded and plugs changed at Ray's Automotive on 12-23-02. I dropped my car off at 9:30 am and Ray called me at 2:00 pm telling me it was done. I am very impressed by the service I received. Ford Motor should visit Ray and witness how customer service is truly done. Total cost of work was $549.78.
Happy Holidays,
Barry
---
Hi everyone,
Got my Cams welded at Rays automotive in Warren Michigan yesterday. He says I'm his 39th cam job. This was a no frills job, just welding, no gasket replacement etc. It was $500 even. I was getting a SES for IMRC stuck closed and a small tick (not quite as bad as the one on the website). The weld job cleared both of these up. I got her up to around 95 on good ol' I-696 and she was just fine. Looks like all went well.
Joe
'96 Green 114K
Lansing, MI
---
Visited Ray's in Warren, Michigan is week to have my cams welded. For the first time since I found out about the cam failures I am able to really enjoy driving my SHO!
Have Ford's ESP until April 05, but from what I have been reading, I will be better off hanging it next to the other paper in the bathroom. A shame that SHO owners have to go through this hell. I was a loyal Ford customer, having owned everything from a Pinto to a Pantera. NO MORE. Will look for a new brand to share the garage with my SHO!
SHOTOM
'99 GREEN
42,000 MILES
---
update 1/31/03
I just came back from dropping off my SHO at Ray's Auto in Warren, MI.
Talked to him a little bit and he said he has done (cam welding) around 55 SHOs. Ray is scheduled to do 2 cam welds today.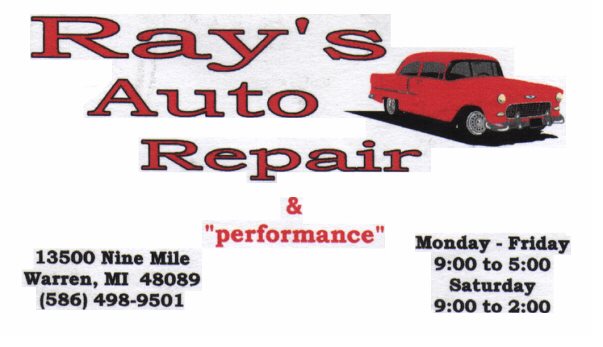 I will send more info as soon as I pick up the SHO around 1-2 pm today.
Rene Carlos Cruz
Warren, MI
98 SF
---
Tim,

attached couple of photos of Ray's welder's job on my Taurus. There were two of us SHO owners there today and they did them in tandem in about 4 hours total. Pretty painless. I think they told me they are up to about 55 so far.

Bob Shadel
---
I don't know much about welds, at least not weld photographs. Weld X-rays may help. There are good and bad, ugly & pretty welds. But just sow we can all look at something - here it is.
Buford
---
April 06/03

Hi
I had my cams welded yesterday, at Rays Auto in Warren Michigan. They take care of the tear down and re assembly, and they have a guy come in to do the tig welding. I cannot remember the welders name, he works at a tool and die shop, and the welds were very well done. Jonathan at Ray's did a good job looking after the with the tear down/assembly. The whole process took about 3.5 hours
Jonathan told me they have done approximately 60 cars so far, most from out of state (Ohio, Indiana, Pennsylvania, & Canada). The charge $500.00, or $553.00 if you replace all the plugs. I did the plug change . The car ran great all the way home, but now I have a miss, should have replaced all the coils while it was open. I will have to replace them now, at least she's welded up, and I can drive it with out worrying about it now.
By the way, keep up the good work on the web site, it has been a big help to me
David Heil
97 SHO
116,000 km, 72,000 miles
Kitchener, Ontario
---
Hereís my overall experience with Rayís during my cam welds. After reading all the reviews for Rayís on v8sho.com, it seems Iím the only one that wasnít terribly impressed with their operation.
I spoke with Ray on the phone the day before, explained I wanted the cams welded, the plugs changed, and also for them to see if any of my coils were bad. It was due for an oil change, so I figured Iíd let them take care of that too. It was estimated to be about $600 for everything. I dropped the car off at Rayís the next morning at 9:00am when they opened, and they told me it would be done in 4-5 hours. It wasnít finished until after 5:30, almost 9 hours later. I wouldnít have minded, due to a busy work load or what have you, had I been satisfied with the work they did.
When picking it up, I asked about the coils, and found out they hadnít tested them. They had simply pulled the codes from the computer and came up with nothing. Of course, the engine light hasnít come on in longer than I can remember. I still suspect I have a faulty coil, even though they said they were okay.
I pulled out of Rayís with the radio on and the AC on max since it had been sitting in the sun. I drove it pretty hard, since I hadnít in quite a while since hearing about the cam problems. On the drive home, I turned the AC off and turned the radio off as well. Then I noticed a very audible squealing coming from the engine compartment on the way home. It was only during very low rpms, usually less than 1k, and seemed to get higher in pitch as the rpms decreased. This seemed like it couldnít be a mechanical issue, such as belt, and since they had been messing with the plugs & coils, I assumed it was an electrical problem. But I was almost home, and Rayís was closed for the day, so I decided to drive it around that night and see if it went away. It did not.
This morning, I took the car into my local mechanic, one who is very knowledgeable of the SHO engine. I was getting the front rotors turned, and mentioned to him to look into the squealing that the engine was emitting. I received a phone call later telling me that everything was alright with the car & to come pick it up. While I paid my mechanic, he mentioned the cause of the squealing. He said the squealing was caused by the vacuum tubes. Rayís had not put them back together correctly, and the connections were very loose. He was able to fix it in less than an hour, and no such noise exists currently.
The bill at Rayís came to $595.12, as expected. What I wasnít expecting was a brief code pull from the computer instead of a thorough check of each coil (seems like they could have done that during the 8+ hours my car was there) and a half-@ssed reassembly job of the vacuum tubes. The car was driven after they put it back together, with the radio & AC off, and youíd think they would have noticed the unpleasant squealing it was making. I hope the welder they have do the welds was more competent. Donít get me wrong, theyíre nice guys over at Rayís, but it seems like I had unsatisfactory service in my opinion.
Flames off-list, if you wish.
------------------------------
Matthew Ponke
1997 Pacific Green
-Welded cams (5-28-03)
---
Not a flame, maybe an "I told you so." I'm not sure if it was you that asked about Ray's before, but maybe it was. I had mentioned that their welder could lay a nice bead, and that's about all I'd say about them. Still about all I'll say about it. My experience wasn't much different. I told them I was driving in from Iowa and needed to get back on the road, and they said 4-5 hours when I dropped it off at 10. There was another car there that they decided to re-assemble first, even though mine got welded first. I was out of there by 4 or 5, I think. I got my cams welded, they left a gasket out of the other guy's car (the tiny EGR gasket, I believe). I'm just happy I had no spare parts left.
As I stated, I got my cams welded. They have a decent welder. That's about all anyone can expect. I've met Kirk, I like him. I like the work he does. I just didn't feel like waiting, and wanted to visit a buddy at Notre Dame on the way to/from Detroit. I'd have waited out for Kirk if I had it to do over again. The important part is that the cams are welded.
-John B
---
Matthew,

No flame, but while you do have a right to be somewhat unhappy, I am sure if you had taken it back to Ray's they would have found the problem and taken care of it for you. It is a fairly minor problem, yes, one that annoyed you, but it didn't hurt the car any.
If I were you I would calmly call and talk to Ray and tell him what happened and voice your thoughts, and just suggest nicely (nobody likes to be yelled at) that he might want to review his people's procedure for putting the car back together, and also ask him how he normally checks the coils.
It wasn't clear from your note if you had talked to him before and he had promised to check each coil or if you just assumed this. If you did assume, then the fault is not with Ray really. He did check the car to see if there was a code, and that is one valid way to see if something is amiss with the system, it just won't do any good at predicting a future problem, which is what you were after. Seems like you have a couple minor points that Ray should be made aware of, and otherwise, seems like things went OK.
About the extra time, did you ask why it took so long? did you call during the day? Things do happen at shops, and if you didn't come back till 5 to pick up the car (again not clear when you needed the car back) then no real harm was done.
Again, you have some reason to be slightly upset, but overall, it seems like you were treated well. Thanks for reporting though, we need to hear the good AND the bad. But give Ray a chance to explain and hear your thoughts so he can improve in the future.
Don Mallinson
---
Fair enough.

I'm not trying to discredit his shop, as I think it was a worthy investment for the cause. I could have taken it back to Ray's today, however my car was already in another shop this morning, and it's almost an hour's drive with traffic to Ray's, verses 20 minutes to my local mechanic. On the phone, he said he "could check each coil with a scope" which to my knowledge, be it a scope or multi-meter, can check the condition of a coil. Correct me if I'm mistaken on that procedure. It's written on my work order to "check coils." I reported there was no engine light coming on, so for him to check engine codes was kind of useless IMHO. I called before leaving my house, around 3pm, expecting it to be finished, and they said it'd be done by 4:30pm. I then left around 4pm, arrived around 5pm, and it still wasn't completed. Ray did apologize for the time, and I willingly accepted his apology. This isn't a major gripe, I'll wait for a quality job, but I don't think this was the case. My major concern was the fact they drove the car after it was done, and mentioned nothing. They had to of driven it prior to starting as well, as I parked on the street, and noticed the squeal was not present when I dropped it off. I do intend to call Ray's tomorrow, since I'm home tonight after they've closed up for the day, and peacefully inform them of what happened. There are no hard feelings, just a heads up for those interested in doing business with this particular shop.
Matthew Ponke
1997 Pacific Green
-Welded Cams (5-28-03)
---
Matthew, you are absolutely right. The computer setting a code, isn't a valid test for the coils. You are 100% correct!
When Kirk took my coils off, as he was welding my cams, we cleaned and checked the coils one by one. We inspected each one for hair line fractures and indications of impending failure. Kirk does it right. I keep telling the group that. He has put together a little check list of things to do on every car. He repeats the process each time. Even after taking care to do the inspection and ohm meter measuring, one of mine stated to fail the next day. It set the code on my trip back up there. So even with care; and trust me guys - (the ones that haven't done this yet) Kirk uses better care than I would on my own car; I think that the act of removing the coils and handling them can even lead to failure. Ok, don't start replying yet. What I am saying is that I believe (no proof, no % etc. ) that there is the possibility in higher mileage cars, that the coils might be ready to go anyway, and the removal and installation process might put them over the edge and hasten the impending failure. But, that said, Kirk's way of testing the coils is correct in my humble opinion.
People ask me why I endorse Kirk for this procedure all the time. I do because I think he does a great job. He is as careful as you could expect anybody to be. He is as thorough as you could possible expect, and he goes way beyond what is necessary and certainly far beyond what I have heard others do. This list isn't a small one. Lots of the others guys from the other shops are listening here in the background. And they're good guys, let's get that start. But lot's of us have been detailing the virtues of Kirk's work. I'm totally surprised they aren't trying to repeat the process Kirk uses. It's been explained well, and the reasons for each step have been discussed as well. So, Kirk get the 5 wrench rating, end of story!
Everybody makes mistakes, ok, understandable.... But a good process is the starting point! Especially when it was discussed up front before the work started. Matthew is dead right, his expectations weren't met and the faith that he has on the whole job is compromised, as I think his his email reads. Just my humble opinion.
Jim Merriman
---
IMO the average shop is really hoofing it to get cam welds and plugs done in 5 hours. Changing the oil and messing with coils adds to the time. If they have any problems, such as a mechanic has to stop for something else, the welder is busy, etc., then that adds time.
OTOH, they shouldn't SAY 4-5 hours if they can't deliver.
Also, they should have discovered a vacuum leak and fixed it.
Dean James
________________________________________________________________________
Rays Cam Welding Experience

Over a year later, this problem surfaced? At the time, the weld seemed to go perfectly. Unfortunately, while putting the intake manifold back on after the welds were completed, part of the wiring harness was smashed under the intake manifold located back by the firewall. Eventually this ruined one of the wires that was caught. The car would not start and had to be towed to the dealer. As it turns out, the ignition wire that was caught shorted out the security code module (Which luckily was covered under warranty ($300)). It took them four hours of labor to diagnose the electrical problem, as they ruined another security code module, thinking the first was faulty when they put it on and it shorted in a matter of minutes. To remove the manifold and fix the problem ran up the total to $650 dollars just to fix ONE wire? keeping in mind that I didn't even have to pay for the security code module. I plan on calling Rays to complain, although since the work was done over a year ago, I am sure they will not be to sympathetic with the problem. Hopefully this problem doesn't happen to anyone else, but people who have had it done might want to look around back there. I'm up at school so I am going on what my dad said about the problem and don't know the specific parts for the module or wire, etc.

Sincerely,

Kevin Cook
---
I just wanted to take this opportunity to say thanks and good job to the guys over at Ray's Auto and Repair. They fixed my head gasket for much less than two dealer quotes and also took care of some other bugs such as the cam welds. They did a stand up job and this is my recommendation to the public to check these guys out. They were honest and told us stuff that had been done to the car that we didn't know. Once again I appreciate your honesty and quality.

Andrew Fisher
1996 Silver SHO
---
Larry,

As many others have told you, Thank You for maintaining this site and alerting SHO owners of the cam sprocket vulnerability. I purchased a 1999 SHO with 30,941 miles on October 9, 2002. At 41,200 miles, I started hearing an abnormal ticking sound. I took the car to a local Ford dealer and the dealer told me it was valve clearance and to continue driving it. As the sound got louder, I went on line and found your site. Thanks to your information, I stopped driving the car and towed it to Ray's Auto Repair and Performance in Warren, MI.
Ray quickly assessed the problem and disassembled my engine to find the rear cam sprocket was loose. Luckily, the sprocket did not fail completely and cause damage to the engine. As Ray knew I traveled 175 miles to his shop, he had his mechanic and welder ready to work on my car when I arrived. Ray's Auto Repair and Performance had my SHO repaired and back on the trailer in 4 hours. I would recommend Ray's shop for anyone needing repairs to their SHO. If I could help with the class action suit against Ford, please let me know.
Keep up the great work.
Tony Wawzysko
__________________________________________________________________
4/15/2004
Hey Larry, what's happening. I got my cams welded yesterday at Ray's Auto
Repair and Performance, and I am really happy with the service. They
changed my spark plugs for me at just the cost of the plugs because they
already had the engine out, and they called their welder in to do my SHO the
same day I purchased it. My SHO was making a lot of creaking noises so I
had them look at it and they said that it was the struts, but that I could
go another couple thousand miles on them before I need to replace them - it
would just be a nuisance. Anyway, very happy with the service, that's where
I am taking my SHO from now on.

Andy
_______________________________________________________________
4/19/2004
Larry,

As many others have told you, Thank You for maintaining this site and alerting SHO owners of the cam sprocket vulnerability. I purchased a 1999 SHO with 30,941 miles on October 9, 2002. At 41,200 miles, I started hearing an abnormal ticking sound. I took the car to a local Ford dealer and the dealer told me it was valve clearance and to continue driving it. As the sound got louder, I went on line and
found your site. Thanks to your information, I stopped driving the car and towed it to Ray's Auto Repair and Performance in Warren, MI.
Ray quickly assessed the problem and disassembled my engine to find the rear cam sprocket was loose. Luckily, the sprocket did not fail completely and cause damage to the engine. As Ray knew I traveled 175 miles to his shop, he had his mechanic and welder ready to work on my car when I arrived.
Ray's Auto Repair and Performance had my SHO repaired and back on the trailer in 4 hours. I would recommend Ray's shop for anyone needing repairs to their SHO.
If I could help with the class action suit against Ford, please let me know.

Keep up the great work.
Tony Wawzysko

---
Contact Information