Home | Mailing List | Specifications | Care and Feeding | Modifications | Vendors | Literature

Owner Testimonials
Thanks to Big Dog
---
97 SHO Owners Reports:
One test drive sold Wes on a 97 SHO for his wife.....
I just bought a '97 silver frost SHO today. It's immaculate with 12k miles on it. Very nice car. Although it will primarily be my wife's car (see below for what I drive-- FORD BLUE RULES!!), I'm looking forward to our highway commutes in it.
The test drive sold me on the car. Tight handling for a 4 dr sedan, good power (if not blistering-- that's ok), excellent brakes, great dash layout and very comfortable driver's seat.
This car is kind of a strange bird in that it seems to have every option but leather seats (no chrome/polished wheels, either). That's ok, leather isn't that big a deal to my wife. I like it in my Cobra, but to be honest, the seats in the Taurus feel more grippy and I attribute that to the cloth seating.
Anyway, I hope to get on a few SHO mailing lists. I know most are probably directed at the previous model cars, but I'd still like to learn as much as I can about this car.
Wes Tarbox
90 LX 5.0 (11.37 @ 126.6), 96 Cobra (13.19 @ 107.8), 97 SHO


---
William Trimble traded his 93 SHO for a 97. Here's his report.....
My name is William Trimble. In August I traded in my '93 SHO, which I had since 95, for a '97 SHO. I love the car. The only thing I could wish for is a manual transmission and the old JBL sound system with the sub-woofer. Your web page has some reviews from different Internet sources and some of their comments bother me, which I'll comment on.
First is the comparison of the SHO to the Grand Prix. True my car cost probably five grand more and is just a little bit slower but I think the cost will even out when the warranties are up. I don't seriously if GM's supercharged engine will be as trouble free as the SHO or that it will last as long. I could easily see Grand Prix owners spending a couple thousand to replace a supercharger around 100,000 miles.
Second is the cost. Many writers feel that a Taurus is not worth $30,000. Well you'd be a fool to pay the sticker price, but they have to learn to disconnect the SHO from the other models. So what if the price keeps Ford from selling large quantities. I just drove from Kansas to Alabama in November and did not see another SHO until my return trip and I only had about 200 miles to go. I love that exclusiveness. Grand Prix's, Impalas, and BMW's 3 and 5 series come a dime a dozen. The only thing that drives the SHO's resale value down is that it's a Taurus and Ford sells so many, but since most SHO owners plan on
keeping our cars for a long time (and they will last a long time), what do we care about resale value.
The $27,500 I spent on my SHO was well worth it. I got every option but the cell phone. I got more ooohhs and awhhhs and questions from total strangers than I ever would from anything but some fancy high dollar sports car. I'll have this SHO for a long time unless they boost the horsepower to around 300 or come out with a manual and a modest horsepower boost.


---
Wes ( a Ford Oval Guy), bought his wife a 97 SHO! First impressions--
I just bought a '97 silver frost SHO today. It's immaculate with 12k miles on it. Very nice car. Although it will primarily be my wife's car (see below for what I drive--FORD BLUE RULES!!), I'm looking forward to our highway commutes in it.
The test drive sold me on the car. Tight handling for a 4 dr sedan, good power (if not blistering--that's ok), excellent brakes, great dash layout and very comfortable driver's seat.

This car is kind of a strange bird in that it seems to have every option but leather seats (no chrome/polished wheels, either). That's ok, leather isn't that big a deal to my wife. I like it in my Cobra, but to be honest, the seats in the Taurus feel more grippy and I attribute that to the cloth seating.

Anyway, I hope to get on a few SHO mailing lists. I know most are probably directed at the previous model cars, but I'd still like to learn as much as I can about this car.

Wes Tarbox
90 LX 5.0 (11.37 @ 126.6)
96 Cobra (13.19 @ 107.8)
97 SHO

---


Stephen was so impressed with his dad's new SHO he dedicated his homepage to it! I wonder how often he gets his hands on it?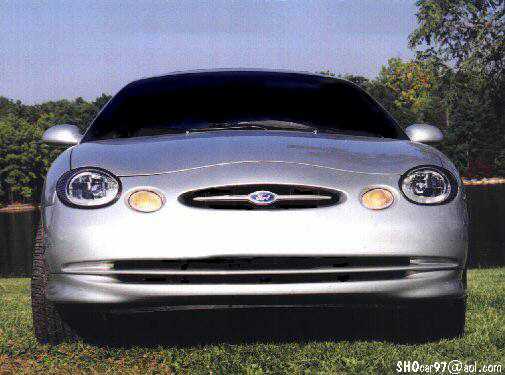 A Driver's Car Must Be Driven. My homepage is dedicated to my dad's Taurus SHO. It has a 32 Valve, 235 Horsepower V8 Engine, and Grey Leather interior, and I LOVE IT!!!!! If you have any pictures of your SHO that you would like me to put on here, email them to me and I'll be happy to look over them, or if you would like me to put a link to your SHO site, I'd be happy to do that, too. My Email address is shocar97@aol.com Also, I hang out in Car and Driver Chat a lot, so you might be able to talk to me in there.

---
Richard Daughenbaugh (a '91 mtx SHO owner) comments on the 97. The new SHO may be gaining respect from the earlier SHO owners.
I saw a '97 SHO yesterday, mauve color. The only SHO designation was under the left taillight. I looked really neat, better than the regular Tauri. I was in my '91 w/115k+ miles, 40k+ on 2nd clutch, and we both hit it at 30 mph. I dropped to 2nd and he had the ATM. At 70 I shifted to 4th and was almost neck and neck. I had to back off because of lack of road. Lots of fun. I don't know if the '97 had it to the metal but it can get down decently. My old '91 still has it when it needs it. I believe the MT's can hold their own very nicely with the ATMs. Still a kid at heart and over 50.
---

Ron Fleshman has three SHO's-- including the evil of evils:
I've owned 3 SHO's. I first bought a 94 ATX and had no problems-- gave it Hell at times but it was never in the shop for anything. In March of this year, I bought a 97 (evil of evils) and to this date, it just keeps going and going with no problems. In May, I found a guy in Georgia who wanted rid of his 92 MTX. He had all the service records and lo and behold, he had only replaced a clutch at 50K (and that, as he told me was on recall). This 92 has been bulletproof and a fine all around car.
Maybe it's the use you give it. My 94 and 97 are family haulers and I run it hard when I do that, but I do not race or abuse at any time. In fact, most consider me an aggressive driver. Pedal down and on to the next place. My 92 gets far more abuse. I flog it up to 7K on occasion and love the car, yet, no problems. Oh, yeah, I've replaced brakes and switches and things you would expect to go on a car that old, but no majors. A lot of people expect cars to last forever. Yeah, Hondas and others do, but they don't see the abuse that real performance drivers give a car. I think these 3 babies I've had have been more than adequate. We're a special bunch and given a Chebbie or Pontiac or anything else would do the same. I love these cars and will for a long time. I could tell you about my experience with other cars, but that would only bore you. These are great cars!!!

---
Al Ecat's ('classic' SHO owner) comments on his wife's (?) Toreador Red Metallic 97:
At first I thought that I did not like the jelly bean on roller skate shape of the 3rd generation car. And I also thought that the ovals were carried too far on the overall car. Then I had the chance to take home a used 96 SHO for a weekend. Well I loved it so much that I bought a 97 SHO for my wife (yeah right). I still have my 92 SHO MTX and prefer it. The 97 is totally a different car, it picks up fast and seems to get stronger the harder you push on the gas pedal. The V-8 purr is really nice to hear when you step on the gas, but runs quiet when just cruising along. Under full acceleration it is almost impossible to feel the shifts, which happen around 6500 - 7000 RPM. Sometimes the ATX seems to shift rough if you step hard on the gas to get started, then suddenly take your foot right off. The ride is smooth and refined to the point that the CD's do not skip one quarter as much as the CD's do in the 92. The Mach stereo is far better than the JBL stereo in the 92. They both have the same problem of no manual control of the power antenna. Steering is great, as the parking lot at work is small and the wheels turn sharp, and faster to accommodate this. The chrome mags and overall paint shine so bright that it almost blinds you. I had one scratch on the passenger side mirror when the car arrived at the dealership, but other than that I could not find a mark on the paint. As for the spoiler I have heard all sorts of names for it and suggestions to get rid of it. I like it a lot better than the imports and a few domestics that have a higher wing than the roof of the car. My wife says that they look like shopping carts, or hooks for the air rescue to pick them up with. Colors, exterior is Toreador Red Clearcoat Metallic and the interior is Medium Graphite. These are my 500 kilometer impressions of my 1997 SHO and so far no need to see the dealer for any reason at all.
I have noticed that the Auto light switches have been redesigned and moved up higher on the dash. I have short legs, so I sit up close to the dash in my 92 to fully engage the clutch. I am forever readjusting the delay with my knee when I get out of the car. Not possible on the 97. Also one feature I have not heard any mention of, is the Auto Open on the Moonroof. One press of the switch and it will completely open without holding the switch. Some people have said that the bottom edge of the doors are not painted, mine are. I also figure that I have one of the last 97 SHO's built ( 271827 ) because the week that it was built was the last week of production for 97 Taurus. The more I drive my wife's 97 SHO the more I like it.

---
Joe Randazzo finds a lot to like in his new loaded SHO including the performance:
I've been looking for a site dedicated to the new series SHO. It's like a "Good Ole Boys" network out there. No one wants to give the new SHO's their due.
I own a 1997 loaded white SHO. It's a helluva car - rides great, steers like nothin' else, and yes it is fast ( contrary to what the good ole boys would have you believe ). And I do know from fast (2 1967 GTO's -- 1 389, 1 Pontiac 400 --- in a previous life )
Anyway, I've grown up since my muscle car youth. And I'm glad the SHO has grown up too. The new SHO is also quite a beautiful automobile. I'll take it's understated spoiler over those 747's I see all over the road.

---
Tim Wright calls 'em as he sees 'em in this commentary (or confession).
This weekend I took my 97 SHO and drove about 800 miles from northern WV down to Blowing Rock NC and environs. Anyway I am beginning to get a little bit of the feel of this puppy. I drove 350 miles in 5 hours including the last 100 miles of mountain driving strange roads in fog and darkness (a lot of "blue ridge parkway" 35 mph zone stuff). On the way back I drove the 350 miles in 4 hours, first hour in fog.
Better living via electronics: I managed to appear honest enough with the dozen "serve & protect" types I happened by except for the one WV trooper going the other way with instant-on K band. He painted me "big time" when I was going 85+, I got a real nasty look but he could not turn around and get me. WAY COOL. I was scanning WV hiway feq and he didn't call ahead either. I thought it might be best to hammer down for another 3 exits then get lost, buy gas & lunch. " I have no front plate so it must have been somebody else with a car that looks just like mine, after all there are a lot of tarui out there!" I wonder if he still thinks of me?
Damn, this car does a great sling shot thing, I was behind a semi doing 60 mph in the mountains and when the dotted line breaks my side I hammered down and I was doing 90 mph when our grills were even. This car might not have torque out of the hole but on the hiway it's one bad ass MF.
This in not a town car, it's not for drag racing a 1/4 mile, It's to big for autocross, it is the T-rex of the interstate and two lane black top. The V8 pulls hard in top gear but when I kick it down, it really hauls (and starts torque walking to the right at 80 mph!)
A STS might have more HP but I can pass em' on the inside, on the outside, screw em', I passed old farts with FL plates like they were getting a group rate. I bet they are all writing their senators right now asking for a national 45 mph speed limit.
The 97 SHO can hold a corner and get a whole lot of speed up quicker than anything else out there. It's not the 0-60, it's the 60-100+ that the car rags never test that is the best feature of this car. I blew past Saab 9000 turbos in corners and ascending grades, passed BMW on the outside in the mountains. I passed everything but the Second Coming.
I never drove a V6 1st or 2nd gen SHO but I know they are quicker off the line but I like they way this 97 SHO rocks, It never runs out of steam. It's like a 1100 cc motorcycle with a CD changer, nice seat and AC.
I drove 350 miles in 4 hours, arrived feeling great, waited till 6 PM then washed the car even though I know that it is going to rain tonight. Am I beginning to fall in love with this car?
One other detail, the binders can scrub off speed like a field of crotch deep peanut butter. No problems, not worth mentioning because they do everything well, they are perfection, I just took them for granted. I'll get asbestos pads and nuke all road side weeds!
FWIW 19-20 MPG running 80-100mph in the mountains, breaking hard for corners and wailing in the stretches.
If I had 10 miles of semi straight road I would need to file a flight plan.
DIS PUPPY ROCKS.

---
Thanks to Josh Turner for this short review.
I've had three of these cars ('90, '91, and now a '97), and have been a fan of them since the first drive. For the record, the seal fix for the 97 Tauri is apparently effective - mine is almost dead silent (except for a nice engine growl) all the way up to the century mark. The only thing that intrudes is a slight wind rush over the mirrors at 80 plus.
It looks like Motor Trend got their payoff check from Pontiac early this year. The new SHO has a level of refinement and purpose that escapes every GM product, including the GTP.
I would like to point out that 0-60 times aren't everything. The new SHO is not as fast to 60 as an older one. Period. But it is in every way a better car (except for the lack of a manual). It handles better, has a stiffer body structure, rides better, and I think it has more useful power around town. From about 20-60, it takes off like a rocket.
---
96 SHO Owners Reports:
Tim Montiglio knows SHO's and even thought about the SVT. He chose the 96 SHO and here's why.....

I recently took possession of a perfect silver '96 SHO. Previously owned an '89 SHO for 9 years. It had over 100k and was still a kick to drive, but, it was time to move on. My '89 SHO trade-in valued over $2k. Its interesting the way SHO owners, particularly 96+, refer to the pre-96's as "classic SHO's". Reminds me of the New Coke/Classic Coke war back in '75.
My '89 SHO was Light Titanium in/out with the sport leather seats which had a durable cloth insert. Sure am going to miss those seats as my new SHO is cloth optioned. One thing I did to my '89 SHO was install Eibach springs. Those Eibachs changed the whole personality of the SHO, making it ride supple and civilized. And that is what I like about the '96+
SHO, it is more, I won't say 'civilized' rather, 'mature' than the classic SHO. I'm going to look into Eibachs for the new SHO, I think the new SHO needs a little lowering.
I was shopping for a Contour SVT, the true successor to what I call the classic '89-'91, and '92 SHO's. I include the '92 due the MTX requirement that model year. When your only choice is a manual tranny, you have alot more to think about (Can my spouse drive it with the kids in the back?), so when the salesperson asked if I would try the new SHO, I did and was hooked. One test drive sold me immediately.
The Contour SVT is a wonderful, spiritual, screaming car, and should only be MTX, but, at this stage, I like what the Gen III SHO has evolved into. The new SHO has not been completely matured, the V8 howl is evident when the pedal is metalled. Also, there is no dickering on the SVT price, take it or leave it.
What really got me was the sense of solidity; this '96 SHO feels like it car was chiseled from one solid piece of dense material. I love the amenities; Folding rear seats, auto antenna, motorized moon roof, 6CD player. The windows go up and down really fast. I like the center pod, but, I dread repairs, especially automatic climate control. Forget adding a better stereo unit. I could not afford a '98 SHO or even a '97 leftover, but, there are some '96's around that are in excellent condition. My '96 had 40k miles and was perfectly maintained. Banks did not have a problem finding me financing for this car. Nor did the insurance company find fault. I do miss the fog lights. I'll get the wiring plans from you in the future. The spoiler is not cool. No application here at all; A handle for the deck lid? A package stop? Belt-clip for Gulliver? What is that? I hate spoilers for road cars. I hate spoilers and decals. The '98 Taurus SE has a nice looking spoiler.
Tim's 96 SHO has it's second set of tires; Goodyear GT+4 225/55-16 94V rated. Please Contact him about experiences with other replacement rubber.


---
Randall Noice (now at 60,600) may earn the 3rd Gen High Mileage Award. He shares his experiences--

The 96+ SHO is fast. I surprise a lot of other drivers with the 20-55+ acceleration. Tough to know how to share experiences that break the law , let me just say I have never been in a off-track situation where I was disappointed by the available performance of 96+ SHO... How's that for politically correct ?

The midrange seems to be the hi-light of the 3.4 , and above that the road conditions and other driver's lack of perception become factors that limit enjoyment. Enjoying triple digit speeds on the US highways gets a lot of people very upset (especially law enforcement) and thus I tend to say more than in the past "been there, done that".

I run only Amoco White gas (Ultimate as they call it now) and add fuel injector cleaner ($10) every 10k. My fuel economy varies as to how much "road rage" I experience between tanks , but 24 mpg is my best all-round quote, when people ask. Speaking of people asking : The 96+ SHO does get a lot of positive comments... The most common are :"NO , I can't believe that is a FORD" ... and "V8... no way , can I see" . I guess that's why 97's got the tbird V8 side marker. I also get comments on the showroom look , but that just reflects POO... (Pride of Ownership).

Most fun to date: sharing a back road with a 94+ Cobra (can you say fuel cutoff)
Least fun to date: sharing a back road with a FHP Crown Vic and never leaving 56 mph for 20 miles until our boredom's became equal and his turnoff appeared...

The usual complaints about the 96+ SHO : no manual ; no fogs and no gauges ; power antenna override ; and unlockable trunk without the key. My first set of rs-a z's lasted for 59,500 and still had 2-3 on each but I ponyed up and bought the second set : $800 out the door. (I run 33-35 around)

Thanks to Paul DeCelle on his Toe settings - they are correct for me too (+0.1 degree toe-in). also regarding the "rattle/thump noise at low speed over bumps" problem - My front bar links check out OK but the noise is still there so until Struts fix I'll wait and monitor more...
Wind noise was fixed by FORD and brake rotors are very sensitive . If anyone has found third party rotors that work ??? Bear racing has a kit but only if you run 17" and my with existing factory chrome wheels ...
Also the tone of the SHO has changed to more of a louder-meaner growl up to cruising speeds where it tones down to a purr...

I read online for ideas on future mods and to date I have no plans. The front FORD SHO bra was purchased and very useful during LoveBug season. I just finished my SS 60k checkup and PM and here's what I did :
All of this was done at the FORD dealer in Starke, FL : (P&L)

1) oil change/filter : $20 (5-30)
2) serpentine and accessory belt $157
3) replace upper and lower cooling hoses $160
4) flush cooling system : $36
5) bleed brake system : $37
6) inspect exhaust shield : nc
7) replace micron and air filters : $ 37
8) fuel filter : $37
9) wiper blade assembles : $45
10) inspect end links and re-seal bottom of windshield : nc
11) front end alignment : $90
12) replace thermostat : $104 (part: $57)
discounts : $73
So that's my 60k Service list and costs ...
My thoughts: the wipers are a complete assembly not just the wiper (per ford) , the two air filters I usually do myself , Debated on the thermostat (a possible weak link with an all alum engine was the sway to yes) , the SHO felt like new again and growled away with a big smile... (It's only money , right)

That's my Keyboard's worth and I very much enjoy My 96 #2269 SHO. Let the rest buy the GL/G and splurge on the LX but for my enjoyment the SHO is the Ford purchase. It also matches My wife's 93 Cobra in the driveway just perfectly... but that's another story...

---
John's Frank 18 month review of ownership. No mixed words here.
Since I bought my "96 SHO a year & 1/2 ago, I have been nothing but pleased with the car OVERALL. Let me get to the car's shortcomings and explain what I've done in regards to them.

WIND NOISE - Don't be fooled with the cure commonly given for wind noise being in the window channeling. It is not. The noise comes from the space in the side window channeling. Depending on how tightly the doors close, the seals on the side your car may or may not exhibit the wind noise. The cure that I used was to install a full length piece of self adhesive Velcro (the "Rug" side) to the entire channel length of the front doors. This is on the outer seal. This prevents the wind from running through the channel creating the "reed" effect howling noise. I used the Velcro, as it makes for a professional looking installation, lets the rain water run through it, and is not affected by freezing. I will give full installation directions if requested.

BRAKES - Work great, don't last. My rotors have been replaced by the dealership 5 times as they continue to warp causing pulsating after only about 5 thousand miles. There is no known cure for this problem. I will be however removing the inner splash guards this spring, as they drastically limit the airflow to the inside of the rotors. Let me think now, good outside ventilation, bad inside ventilation..... could uneven cooling warp a rotor, lets find out.

TIRES - I wore through my stock rubber in about 12 thousand miles so I thought I would try something a bit better than stock. I purchased 4 Goodyear Eagle GSD's. They wear no better than the factory rubber, BUT the handling and performance are unbelievable. I'll be real proud of you if you have the guts to push the car 'till these tires will break loose. Also, they are absolutely incredible I the rain. Even with these tires almost down to the wear bars, they hold beautifully in even torrential downpours. You can still drive aggressively, and if they do start to slip, they slip gently so you don't get in trouble. This is the only tire I will get for this car. They also stay balanced extremely well. The cost is about $145.00 each through any discount mail order house. Have your dealer install them.

HEADLIGHTS - What can I say THEY SUCK. They are so weak, I think holding a flashlight out the window would work better. I added a set of driving lights in the lower grille under the license plate area. I bought a narrower profile light set that would fit in the grille without any cutting. They are attached with double sided tape. They fit perfectly, aimed themselves perfectly, and fit so the tape only needs to prevent lateral movement. I used a relay, and tied them into the driving light circuit, so they automatically come on when the headlights do. They are also independently fused. I will provide detailed wiring directions and a diagram upon request.

I did not like the way the windshield wiper spoiler looked being on one side only, so I bought a second drivers side wiper arm (only cost $22.00), drilled out the attaching rivets, and added it to the passenger side wiper arm by CAREFULLY drilling 2 holes and attaching with headless screws. This modification makes the car look MUCH better, and makes the wiper work better too.

I also did not like the way the "wing" in the front grill with the FORD logo looked, so I had the dealer paint it black. This makes the grill area look a lot better.

Other than that, the car is one beautiful driving experience. I enjoy the car as much now, as the day I got it, It will be interesting to see the "Modifications" that come along to improve on the powertrain. So far, the airbox and exhaust mods I have heard about being done strike me as dubious at best. I think that under most conditions screwing around with the stock set up usually does more harm than good. Especially when your changing your air / fuel ratio by changing intake and exhaust flows. Over time running the car richer or leaner than that set up by the factory causes a slow death to the piston rings / valves, etc. AND, if the electronics compensate for these changes then you're just wasting your time, and removing the adjustable overhead built into the system. I think the only long term solutions are these...... 1. Get a new computer management chip. (However, at this point there aren't any that have shown to improve the performance of the car) 2. Go balls to the wall, rip everything out and do a serious engine rebuild. 3. Buy a faster car. The point is, this is not a race car. Let it do what it's intended to do. It is already VERY fast. Remember, no matter HOW fast your car is, there's always someone with a faster one anyway. I plan on keeping this car a long, long time and will probably get another SHO 5 years or so from now. Hopefully by then they will have the brake and headlight problems fixed.
---

Jim Heaton shares his experiences and dreams of his 96 SHO:
Experiences with the car to date: At 8K miles it seems to pull a little stronger every week. I'm not sure why since the break in period should be long past. I've been emailing superchips about their soon-to-be released chip for the V8 SHO's. I'm a bit skeptical about add on chips for unmodified cars, but given the detuning that's supposed to have taken place with the Yamamotor, + the fact that the ECS V computer controls the shift points on the trans as well as the engine, I'm hopeful. I'd be happy if they'd just change the kick-down algorithm to reduce the annoying delay in the 4-1 down shift in town (taking it out of OD helps some).
If you haven't done it, put the car in 1st manually and take it up around 2/3 max RPM and higher - really gives you an idea of what the car is capable of with no engine mods but an aggressive tranny shift table.
Problems had a few: Bought it new in May '97 for $19995 (+ tax... etc) from a batch of 15 that sold in 2 days at Varsity ford in Ann Arbor. At 300 miles, it developed a front end shudder. The wheel lugs were loose from the factory!! Tightening them and another 100 miles wore the cups out of the tires that the loose lugs put there.
The car sat for so long on the lot that the rotors had rusted except where the pads had been sitting. This made it appear that the rotors were warped. A dealer very fine cut with on-the-car turning machine did the trick. I'm truly impressed at how the car stops (even before the ABS kicks in). I've tested the rain stopping performance and it's equally amazing.
The rear tail light on the passenger side has a leak which burned out the bulb. I'm having that replaced under warranty.
I had a major clunk when shifting from 1 to 2, especially after heavy accel letting off while still in 1st. Turns out the monkeys at the quick oil change place overfilled the X fluid. I pumped the excess out and it seems to be normal now.
I put about 600 miles per week on it commuting to Troy from Ann Arbor every day. It cut 10 minutes off my commute compared to my old Contour 2.0 L 5 spd (which was still a nice car - out corners the SHO! - but a bit cramped).
Mods I've been wondering about: K&N air filter (3hp?) Cone-ectomy (does it apply to gen 3?) Reduced size rims and 45 series tires (poor man's gear reduction will smaller rims fit? - I don't need to go 147 MPH often ;) Reduced size pulleys & belt (anyone make a kit?) Superchips new '96+ chip (removes 137 MPH governor - hey I didn't say NEVER 147 MPH ;) Blower - (do they make one to fit?) Nitrous - (is it safe with a quality setup like NOS?) Y pipe back replacement with true dual exhaust Remote controlled bypass pipe at Y pipe (remember the old hot rods?)
I'm also interested in changes to the '98 - can I buy badges for the '96 to make it look brand new? A guy here at work added the v8 badges to his '96 to make it look a year newer.
Also, as a radio amateur I was surprised to find out that the rear deck lid is not metal (at least not ferrous). I went with a glass mount antenna instead.

---
Paul DeCelle owns a loaded 96 SHO and shares his observations:
My SHO is a Willow Green '96 with tan leather, moonroof, JBL sound, CD player, and silver (not chrome) painted wheels. It was the very first '96 to arrive at my dealer back in March 1996. The lease on my '94 Probe GT was up, so the timing couldn't have been better. I almost got a '96 Mustang Cobra, but the insurance was way too high.
I like just about everything about this car. Although it's not as quick off the line as the prior SHO, it really hauls when you stand on it at around 70 - I frequently find myself approaching 100 mph while passing. Ride & handling is superb, seats are comfortable, and the sound system is excellent.
There are a few `problem' areas, though:
FRONT SEAT TRAVEL. I'm 6 feet tall, and found that the driver's seat didn't go far enough back for me. This was easily corrected by removing the front seat and taking a hack saw to the two nylon sleeves on the adjuster drive screws. This gave me another inch of rearward travel. It seems that Ford had to put these restrictor sleeves on the SHO to pass crash tests. The government mandated test procedure calls for the driver's seat to be at the midpoint of its range of travel, and the test dummy to be unbelted. Without the restrictors, femur loads were too high_ Since I always buckle up, I feel that my risk is very low. If you do this, be careful with the hack saw - you don't want to nick the drive screws.
CLUNK FROM FRONT END WHILE BRAKING OR ACCELERATING. This is caused by an excessive clearance condition between two mating bushings that isolate the subframe from the body at the aft, or rearward mounting points. Ford has a fix - new mount bushings with an interference fit between them eliminate the noise.
RATTLE OR THUMP NOISE OVER BUMPS AT LOW SPEED (~5 to 20 mph). This could be one of two things. Some early models had front stabilizer bar links that tended to develop end play at the ball and socket joints. You can test for this by parking in a level surface and pushing the end of the stabilizer bar up & down. If you feel any movement at all, have the links replaced. Again, Ford has a fix - a new ball/socket design. If the stabilizer bar links aren't the problem, the noise is likely coming from the front struts. It's a hydraulic noise condition, and there's no fix for it, yet. You can dampen it out to a small degree by setting the front tire pressure to ~27 psi. I run my tires at 27 psi front and 29 psi rear.
BRAKE ROUGHNESS. If you notice a front end/steering wheel vibration while braking, you'll need to have the rotors turned. The most effective way is to have the dealer turn them on the car, if they have the equipment. This should be covered under warranty. I've had mine turned twice - first at approx. 10K and again at around 16K. At 22K, I'm starting to get just a hint of vibration, again. I understand that the car is inherently sensitive to front rotor thickness variation. After 36000 miles, you'll be on your own.
DOWN THE ROAD STABILITY. My car tended to wander at highway speeds, requiring constant small steering corrections. I solved this by having the front total toe reset to +0.1 degrees (toe-in). This is just outside of the factory tolerance limits of +0.05 to -0.45 degrees. So far, after approx. 8K miles, I'm not noticing any unusual tire wear, and the car tracks like a laser.
REAR END CREAK. A parking brake cable attachment point at the center of the rear underbody was the source. Some WD-40 took care of it.
WIND NOISE. At 65 mph or so, I would get a loud buzzing or hoot noise from the A-pillar area. The dealer fixed this by squirting some RTV sealer under the windshield molding.
Minor annoyances:
1. You can't remove the ash tray while the shift lever is in "Park"! 2. A manual transmission would be nice, but I understand Ford's decision was driven by the economics of developing a manual that would only be sold on a couple thousand cars per year. 3. No map pockets on the front doors. Ford did add net type pockets in '97.
Lastly, and sadly, I've heard a rumor that 1998 will be the last model year for the SHO. Apparently, Ford is not selling as many SHO's as they'd hoped, and they're losing money on the ones they do sell. Too bad - it's a great car & I hate to see it go away.
Check out Paul DeCelle's Web Page.

---
Sue and Dave enjoy their new SHO in Alabama!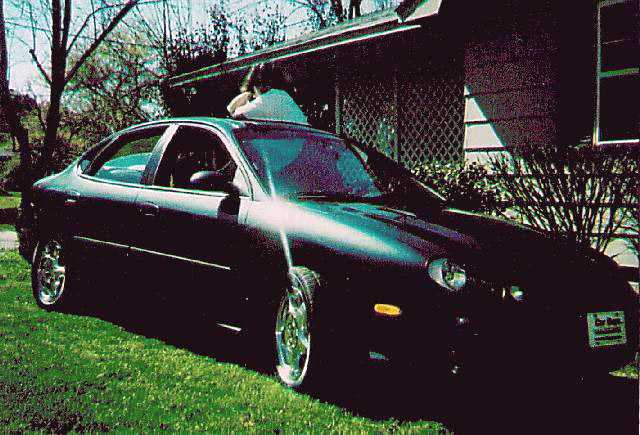 Here is a glimpse of Sue with her SHOpiece.
Here's their findings......
I needed a "Family Car" that both my wife & I could live with. I have a modified 'Stang sedan that I use in track events, mostly Roebling Road and Road Atlanta, plus plenty of spirited rural driving. I spent six years in Germany, and got plenty of experience with top speed performance in many vehicles, including my Mustang. We looked around, test drove a couple of 93-95 Tauri SHO's, but didn't come across one that we liked. We decided to settle on an Taurus LX with the 4 valve V6, but couldn't find one! Seems here in NE AL folks go for sticker prices instead of performance. We stumbled across a '96 Med Willow Green SHO in Mar '97. Two days later it was in our driveway. Impressions: So far, the car's been great. We average 2500 miles a month, and I MUST get the wind *howl* fixed. I can't believe Ford let this car come out like that. Coming home from Birmingham the other day, I was passed by a Porsche Carrera, rocking along. I accelerated and caught him when he was slowed by traffic. We took off, and cruised about 130-135 for several miles. Prior to this day I had only had the car to 132, (my wife was in the car then). Traffic opened up and we went for broke. Of course I couldn't touch him, but I kept him in sight, and the car got up to an indicated 144 @5100 rpm before the fuel cutoff spoiled the fun. The brakes are awesome, but now, when I get them warmed up, they have a warble to them. This car is much like the 'Stang in that it seems to need to be driven hard to really get the computer into the *party mode* After several runs from 85-135, it just got quicker. Also, something needs to be done about the top end governor. I really believe the car has the potential to do 150 in stock trim. It has Z rated tires from Ford, so why the limiter??? Is there a chip the will *only* remove the top end governor? I would like to do some rolling tests against my 'Stang from 80-135. It seemed that the SHO got there much quicker. A great highway car. I can't wait to get it on a fast track like Road Atlanta.
---
Tim MtIglio with a report on his 96'
Recently purchased 17" wheels and tires. I found the Konig Caffeine on Discount Tire's web site which are 17 x 7 with two bolt circles 108mm and 110mm. A plastic cap covers the ten bolt holes. The offset is -40mm which puts about 0.2" on the inside and 0.3_ outside of the extra Ĺ"_rim width. Tires are Nitto 225-50-17VR. Except for the tuner styling, the dimensions make the combo look OEM. I should have went with the Konig Reign which looks more like the OEM style, but the Caffeines were $99 each. Tires were $130 each. Iím not into laps so I canít tell if grip is statistically improved but, the daily drive feels tighter and solid. I attribute that to the lower sidewall. Pushing the car into turns at higher speeds with no tire complaints. If you like the OEM ride and handling, I think this 17" combo makes it better.

Was at a stoplight with the kids last week when a new Stratus pulls up on my right. I look over and a pretty woman waves asking what year. Let me digress. Over the past 12 years of SHO ownership Iíve automated my answer when folks ask about the car. _Itís a Taurusí I say. But they know something is not quite right. I had one guy say _Thatís not your every day Taurus. Is that next yearís model?_ And in a way heís right. Next yearís model usually adopts some SHO styling cues. Surprised a young fellow in a 5.0 Mustang with my Ď89 SHO late one night. At the next
stoplight he expressed his astonishment: Hey man, whatís in that? You on the bottle? Point is I love the stealth value of these cars. Really pisses off those 5-series BMWís. Itís not readily apparent to the general public how special
these cars are.

Back at the Stratus stoplight I say 96 to the pretty woman. I wait for the furrowed brow. She comes back: Very clean and I know its an S-H-O. I have a red one in the shop. Ford said something dislodged in the engine and blew it up. Theyíre replacing the whole thing and giving me crap about it. I rented this Dodge while they sort it out. What a
dog compared to my SHO. I miss it. I wanted to dig for more information but had to move out. Spent the drive
home explaining automotive affinity to the kids.

tmtiglio@zdnetmail.com
1996 Silver 74k
Lowered 3/4_

Little secrets Iíve discovered:
* 96 SHO uses same front rotors/pads as 96 Lincoln Mark 8.
* Pull on the light switch. Youíll feel a detente. Probably for fog lamps that never made it.
* www.wheelskins.com. Excellent steering wheel cover. $40.
* Purolater has the pollen filter for $10. Ford wants $40.

FYI: I have four Alessio Futura rims, 7.5_ X 16_ X -35mm X 108mm. Theyíre slightly out of round but probably good for snow tires. Pay for shipping, $20 for me, and theyíre yours.
---
Dirk Hunt & his Purple 96 SHO
Hi everyone! I'm new to the list and a proud owner of a "Barney Purple" 96 SHO!

Actually.. it's my wifeís car I bought as a graduation gift for her. (heh, heh.. hey.. SHE wanted a purple Taurus. Is it my fault the only one within 500 miles of Columbus JUST HAPPENED to be a SHO ??? (evil laff continues.. )).

Anyway, we both absolutely love the car. It's near mint, I got it with only 36K on it. We took it for a long drive over the weekend from Columbus, OH to Oscoda, MI (374 miles each way) and what a joy to drive. Got the CB, Scanner and Radar Detector all mounted in it for the trip and we made great time. Our normal 7 hour trip became a 5.25 hour "jaunt" including 3 smoke breaks (can't smoke with that nice leather interior!).

Also had a great time "surprising" unsuspecting vehicles along the way. There was the lowered and setup MX6 sportster with 3 young kids left with their tongues hanging out of their mouth with silly looks on their faces, the Firebird Formula who just couldn't shake us and the Mustang GT who called it quits at 110... LOL.

Anyway my question for all of you folks is about a funny noise we started hearing on the return trip. At times between 80 and 90 mph there would occur a funny high pitch noise. At first we thought it was coming over the CB, but with that isolated, it seems it was coming from behind the dash in quick, short little 1-3 second bursts. It is hard to explain so I've attached a wav file of what it resembled or picture the sound a zipper makes really fast.

I was wondering maybe if it had something to do with the AC or the odometer? We were running AC all day and it was really hot. Was that a belt maybe?

Under 80mph it disappeared and it only sometimes occurred between 80-90. Also, the engine temp gauge was running right in the middle. I know around town and hour drives it usually sits about a quarter of the way up. Is this normal range for constant high speed in 90 degree weather? Fluids were all fresh and full.

Thanks!

Dirk Hunt
'96 Barney Purple SHO
(now :) ) 40k
Vanity Plate: PRPLRN
Tint 35% sides / 5% back

To Come...
K&N Filter
UDP
New Exhaust System (really honey... the $800 will be well worth it ;) )
---
new 10/11/02
Tim,
Please add me to the V8 SHO directory. I have a 99 Silver SHO. I live in Boise. Bought it new. Absolutely love it. I'm a Ford guy, always will be. I've been logging on to the site since I bought it, so I better finally pony up and represent Idaho. The SHO is made for Idaho. We have open roads with lots of space. I've found the top and still can't get the smile off my face. There's no better feeling than having someone on your "Taurus" bumper at 100 and slowly pushing it until they don't have anything else, while the SHO is still cruising.
As far as the CAM shaft problem. It bugs me, but I can't get myself to abandon my ride. I'm going to bite the bullet and get the CAMs welded. It's a road trip from Idaho, but what better excuse to fire it up and go. There is a lot of negative shit on the site about Ford and that is understandable under the circumstances, but the money for the welds is worth it, especially when I think of all the good time I had in just 3 years with this car, and the years the welds will buy me. It's a drop in the bucket compared to what a lot of people spend on maintaining their vehicle. I have a friend that owns a piece of shit '87 Porsche 944 that spends $500+ per year to keep it running and has been for 10 years.
I can see Ford's perspective, even though I might not necessarily agree with it. They really should just send a check for say $500 to weld the cams and let everyone choose the shop. Call it good. That would save them from having to announce a recall, which they would probably do, if the press release didn't look so bad. I don't think it has to do with money. I think it has to do with image. If they recall the SHO, everyone who can read has a chance to see a Ford recall, no matter how small or subject. A recall is still a recall in the press. A high percentage of SHO owners are (were) big Ford fans, but the numbers just aren't there for them to bite the bullet.
Thanks for the V8 SHO "Good" Times.
---
Contact Information